Dr Salaheldin Mohammed Ahmed
HONORARY PRESIDENT
2022 –
It is our pleasure and privilege to announce that Dr Salaheldin Mohammed Ahmed has accepted our invitation to become Honorary President of the Society.
He has long been committed to the promotion and protection of Sudan's rich cultural heritage and has made a substantial contribution to the field of Sudanese archeological and historical studies.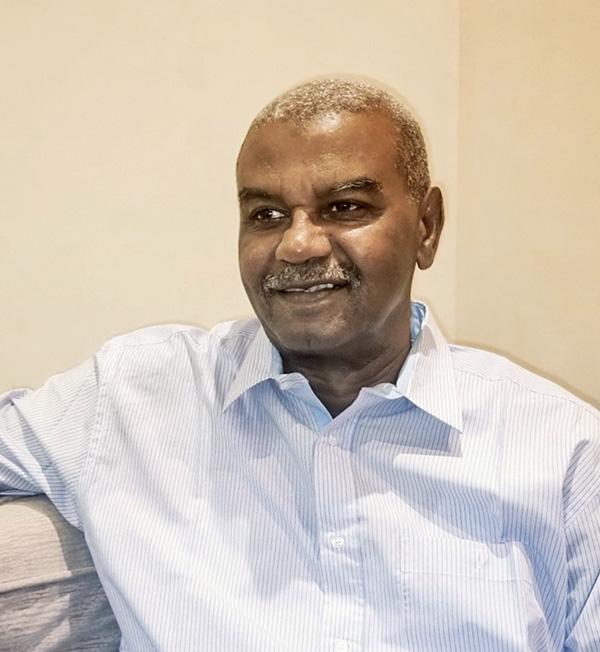 Over the years he has encouraged and supported the work of the Society, particularly its archaeological fieldwork and publications, notably during the Merowe Dam Archaeological Salvage Project and more recently thorough the Qatar-Sudan Archaeological Project. This has been crucial for their success. The Society is honoured that Dr Salah has accepted this new role with us.
Past Honorary Presidents of the Society include Sir Laurence Kirwan (1991-1997) and Professor William Y. Adams (1997-2019) a position held in recognition of their immense contributions to our understanding of Sudan and Nubia, and their tremendous support for the Society.
Dr Salah's main area of interest is Kushite architecture and he has numerous publications. His book L'agglomération napatéenne de Kerma. Enquête archéologique et ethnographique en milieu urbain is of particular note.
Graduating with a Bachelor of Arts from the Department of Archaeology in the University of Khartoum in 1979, he later received his PhD from the Université Charles de Gaulle, Lille III, France in 1990. He joined the Sudanese Antiquities Service in 1979 and became Director of Fieldwork with the National Corporation for Antiquities and Museums in 1992, a position from which he has since retired.
He has had a prolific career directing fieldwork in the National Corporation for Antiquities and Museums, Sudan at numerous sites, including co-directing the Berber-Abidiya Archaeological Project and serving as Field Director of excavations at Dokki Gel, and has been a guest Professor at the Universities of Dongola and Wadi El-Neel (Sudan), Bergen and Humboldt (Berlin), and an Associate Professor at the Sorbonne University in Paris for nine years.
He is currently the Coordinator of the Qatar-Sudan Archaeological Project.