Professor William Y Adams
HONORARY PRESIDENT
1997 – 2019
The late President of the Society, Bill Adams, began his career in 1949, excavating in northern Arizona for the Museum of Northern Arizona. Following extensive surveys in northern Arizona and southern Utah for the Smithsonian Institute in 1953, he assumed the direction of the Museum of Northern Arizona Glen Canyon salvage operations, between 1957 and 1959, work necessitated by the construction of a dam. It was this experience which first brought him into the Nile Valley.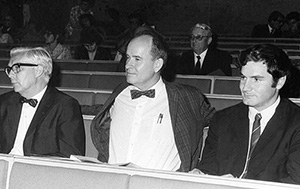 In 1959 he was appointed by UNESCO as organiser and director of the Nubian salvage program in Sudan for UNESCO and the Sudan government, a post he held until 1966. During those years he personally excavated over 40 sites, including settlements (one very large), churches, pottery factories, a quarry, sentinel posts, cemeteries and rock art sites. At the same time, he oversaw excavations by assistants in more than 100 other sites. With his experience of working in the difficult conditions along the Glen Canyon, he was able to apply his administrative and logistic talents to the organisation of the Sudan component of the High Dam Campaign.
It is largely through his activities that the UNESCO High Dam campaign in Sudan was such a success. As the UNESCO Representative he was responsible for coordinating the activities of the foreign missions that took part in the salvage campaign and established most of their concession boundaries.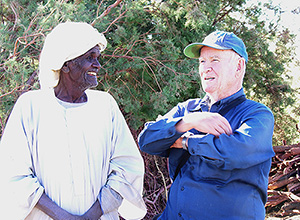 Many of the 13 foreign missions accepted concessions for the more 'glamorous' sites, while Bill and his team, working directly with the Sudan Antiquities Service, were left with much of the remainder, many of which proved to be of the greatest interest. Noteworthy amongst these were the pottery workshop at Faras and the settlement on the island of Meinarti. It is he who developed the basic strategy and plan of operations for salvage operations in Sudanese Nubia, created the master file and map of the sites reported by all expeditions in Sudanese Nubia and devised the system of site numbering and recording now employed throughout Sudan.
In 1969, Bill continued fieldwork in Sudan, directing the University of Kentucky excavations at Kulubnarti during a long season, resulting in the excavation and recording in full of four major settlements, two churches and 15 other sites. A decade later he was director of the Kentucky-Colorado excavations at Kulubnarti during which over 350 graves were excavated or documented.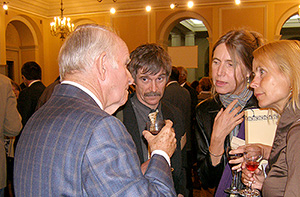 Meanwhile, he was heavily involved with excavations to the north of the Sudan-Egypt border, initially as Excavation Supervisor and eventually Field Director of the Egypt Exploration Society's (UK) excavations at Qasr Ibrim between 1972-1984. This two-hectare fortified citadel was occupied from at least the Egyptian New Kingdom until AD 1811. At Qasr Ibrim he brought order out of the chaos of previous excavations, defining directions, goals and a publication plan.
Amongst his immense contribution to our understanding of Sudan and Nubia in the past is his magisterial volume Nubia, Corridor to Africa, which on its publication in 1977 for the first time provided a coherent, lucid and well researched overview of all periods, interweaving the archaeological and historical data as appropriate. Although now out of date in certain sections, it is still of immense value, with its extensive footnotes referencing a vast literature. More specialised but equally important in its own way is his Ceramic Industries of Medieval Nubia. To these must be added many excavation reports, a number published by the Society along with innumerable articles.
Obituary
With great sadness we learned of the recent death of Dr William Y Adams, Honorary President of the Sudan Archaeological Research Society. Bill's archaeological work in Nubia and Sudan, including 26 books, greatly contributed to knowledge about the Nile Valley and his presence will be greatly missed by all.
Dr William Yewdale Adams, 92, of Lexington, died 22 August 2019 in hospice at Markey Cancer Care.
Bill Adams was born August 6, 1927, in Los Angeles, California, the second son of William Forbes and Lucy Mary (Wilcox) Adams of Eagle Rock, California. At his father's early death in 1935, Bill and his elder brother, Ernie, moved with their mother to Window Rock, Arizona, on the Navajo Reservation, where she worked for the Bureau of Indian Affairs. The boys 'raised themselves' all over the wild lands, until, with no high school on the reservation, they left to attend a range of schools from Washington DC to Marin County, California, as they followed their mother to various job. Bill entered Stanford University at 16, though he spent summers and holidays hiking in the mountains around Mazanar, California, where his mother managed education and social welfare for interned Japanese-Americans. In 1945 he left college to enter the US Navy, where he served on amphibious support craft until 1946.
After the war, he completed undergraduate work in anthropology at the University of California at Berkeley. He stayed for graduate work, interspersed with trips back to the Navajo Reservation, where from 1951 he helped with sheep drives, assisting mounted Navajo herders from his 1946 Dodge pickup — a vehicle he maintained himself and still owned at his death. Eventually he transferred to the University of Arizona to complete his PhD dissertation on the role of the trader in Navajo society, running the trading post at Shonto, Arizona, and taking notes on his interactions with local people. In 1955 he married anthropology student Nettie Alice Kesseler of Tulsa, Oklahoma, who joined him in a hogan beside the trading post. 

Bill received his PhD in 1957 and went to work for the Museum of Northern Arizona, for which he surveyed the San Juan and Colorado rivers in advance of the planned Glen Canyon dam.  He and Nettie floated down the river alone on a wooden boat, scouting during the day for archaeological sites requiring excavation and camping by the water at night.


In 1959 Bill and Nettie, who Bill often said 'shared a career,' moved to Sudan, where Bill initially worked as an aerial photographer for UNESCO, again scouting for sites, this time in advance of the planned Aswan High Dam. Detailing all his excavations would take several books, but the medieval potteries at Faras and the town sites at Meinarti and Kulubnarti stand out. He and Nettie lived in a variety of places in Sudan, notably Khartoum and Wadi Halfa. They had two sons, Ernest in 1960 and Edward in 1962, who grew up along with the work. The typology for Nubian pottery Bill devised in those years is still in use for dating archaeological discoveries throughout the land that was ancient Nubia (southern Egypt and northern Sudan today) and numerous reports of the archaeological field work in Nubia have been published by the Sudan Archaeological Research Society.
In 1966 Bill became a professor in the anthropology department at the University of Kentucky, and the family moved to Lexington. In 1972 he instituted a long partnership between UK and the Egypt Exploration Society (London), within which he excavated the town site of Qasr Ibrim periodically for 16 years, using sabbaticals at Cambridge University for processing the finds; these included a great number of textiles, leading Nettie to become an expert on Nubian textiles in her own right. Wherever Bill went, he took the whole family along.